New SBI debit card customers have to generate their own Green PIN in order to activate their ATM/Debit Card. If you want to Generate your SBI ATM PIN and don't know the process of How to Generate SBI ATM pin? then we are going to help you here. There is a number of ways to generate or change the SBI PIN and the process is very simple. 
All banks have introduced a new way of activating their ATM/Debit cards for the security of the customer. SBI debit cardholders need to generate Green PIN first then by using it they can create their ATM PIN. The customer just needs to follow the easy steps explained below for SBI PIN Generation.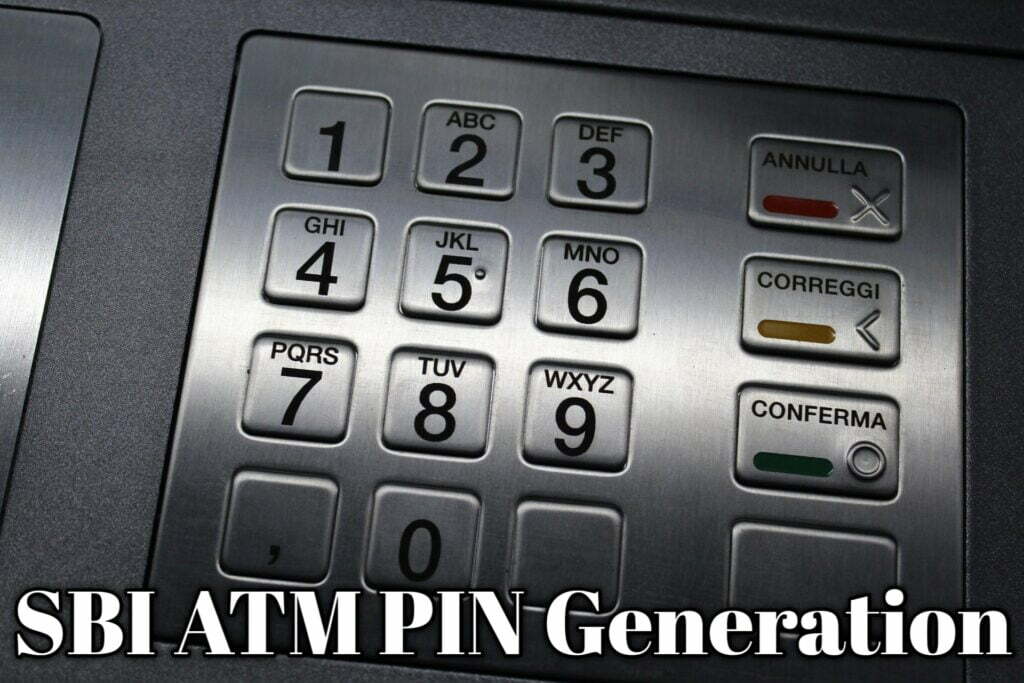 Simple Guide on How to Generate SBI ATM PIN?
The simplest and most convenient way of SBI Debit Card PIN Generation is to go to the nearest SBI ATM. SBI has introduced a green PIN facility to the customers, by following this process customers can generate ATM PIN in a few minutes. The complete process of generating the Green PIN Using ATM is given below.
Go to the nearest SBI ATM with an SBI debit card
In the ATM menu select PIN Generation
Now you have to enter 11 digit account number then click confirm
Enter your mobile number linked to the bank account then press confirm 
If you followed the above steps correctly then Green PIN or OTP will be sent to linked mobile numbers which will be valid for 2 days.
Within the specified time customer should go to ATM then enter the select the Banking>PIN Change option and enter the OTP Received now enter desired 4 digit PIN two times
Now onwards you can use this 4-digit PIN for your ATM transactions.
How Can i Get My SBI ATM PIN by SMS?
The easiest way to generate your green PIN is by sending an SMS from a registered mobile number.
Take your registered mobile now send the following SMS to 567676
SMS PIN 1234 5678 to 567676
Here replace 1234 with the last four digits of your debit card and 5678 with the last four digits of your bank account number.
Once SMS is sent you will receive the Green PIN from SBI
You need to visit the SBI Bank ATM and follow the steps explained above to generate your SBI PIN  
Generate SBI Card PIN by Calling SBI Customer Care
Another method for SBI Debit Card PIN Generation from your Mobile is to call customer care and they will send you the Green PIN to the registered mobile Number.
Call any of these toll-free numbers 1800 112 211/ 1800 425 3800
In the IVRS menu select ATM Card services 
Now select 1 for generating the green PIN
Here you have to enter your debit card number and confirm
Enter your Account number linked to your Debit card
Once all the details are entered then Green PIN will be sent to your Mobile 
With this Green, PIN visit the nearest SBI ATM then complete the remaining steps to change the Debit card PIN.
How to Generate SBI ATM PIN Through Yono app?
YONO app is specially designed for SBI customers, by using this app account holders can do lots of things one of them is changing SBI ATM PIN. By using the app customers can also turn on and off the transactions, if you haven't downloaded the app get it from the play store.
Customers can sign in using SBI net banking credentials 
Once you login then select the "Service Request" option from the menu
On the new page select ATM/Debit Card 
Now the app will ask for a profile password, enter it and on the new page select the activate card.
Here select the account linked to the debit card and enter 16-digit card number and tap next
You will get your OTP as an SMS to your registered mobile number. 
How to Generate SBI Debit Card PIN Through Net Banking?
If you already activated internet banking on your SBI account then you can simply follow the below-given steps for SBI ATM PIN Generation Online. 
Login to your account at www.onlinesbi.com
In the e-services section select ATM PIN Generation
Now select ATM PIN Generation, select any of the two methods using a one-time password (OTP) or using a profile password
Select the OTP method, Now enter the received OTP in the required collum 
Here select the savings bank account linked to your Debit card, click continue
In the new window select the ATM card which PIN has to be generated click submit
On the ATM PIN Generation page, you have to enter the two digits of your choice and the last two digits will be sent to your mobile number via SMS.
In the next screen enter the two digits you have chosen along with the two digits you have received via SMS then click submit.
Now you will be displayed with a Message, ATM PIN has been changed
Finally, you have to activate the new ATM from e-Services > ATM Card Services > New ATM Card Activation. 
Once the activation is completed you can use the SBI ATM Card
In the above-mentioned steps once the customer generates Green PIN he must visit SBI ATM to change or create a new PIN. Once a new PIN is created it will be used for future transactions. If you forgot your PIN then you can change it by visiting the ATM center.
This is the guide all you need to know about How to Generate SBI ATM PIN? If you have any doubts feel free to ask us. For more banking-related updates check indonilne regularly.
1. What is SBI Green PIN?

Green PIN is OTP sent to the registered mobile number of the debit cardholder, it will be used to create a new 4 digit PIN for the card. 

2. Can SBI Green PIN be generated from other Bank ATMs?

No, Green PIN cannot be generated from other bank ATMs, customers can only generate PINs through SBI branches only.

3. Are there any charges for SBI New ATM PIN Generation?

No, SBI won't charge for the new PIN Generation.

4. Can we use Debit card Without SBI ATM PIN Generation?

No, ATM transactions only work once the PIN is generated.

5. Is there any way to send OTP to a non-registered mobile number?

SBI Green pin only be sent to the mobile number which is linked to the bank account.

6. Can I change the PIN only by using net banking?

Yes, the PIN can be changed, and generated if you have net banking enabled on your account.