Anyone can use credit cards with great convenience but sometimes we overuse them and face financial issues. In such cases, we can opt to close credit cards, for a variety of reasons. Any Bank Users of credit cards are given the option to close them at any moment by their banks. The days of having to cancel your credit card in a bank branch are long gone. There are a ton of ways to do the same. If you are trying to deactivate HDFC Credit Card, we are here to help you.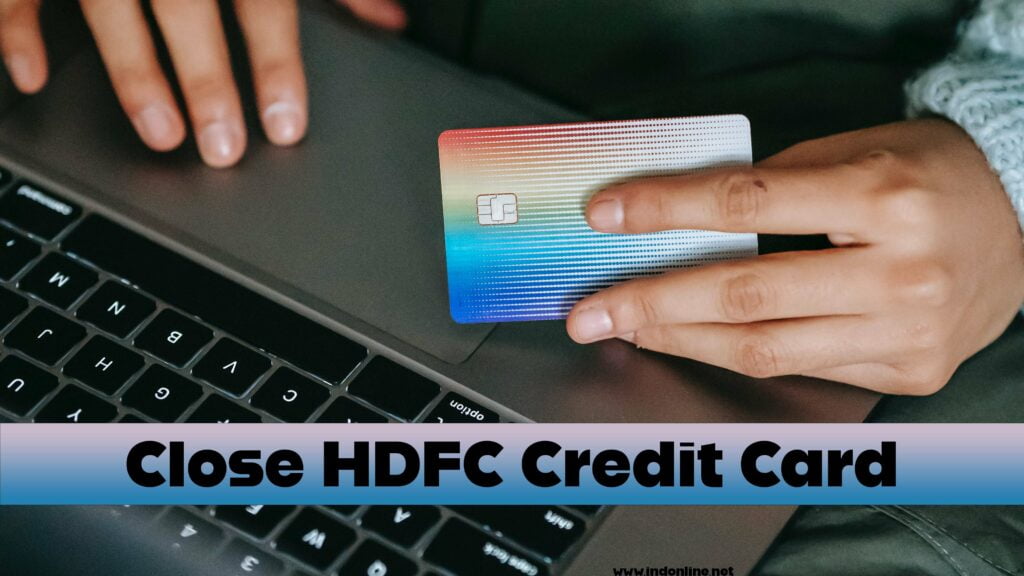 How to Close Credit Card HDFC?
Canceling a credit card won't lower your credit score unless you have dues. Paying down other credit card bills in advance to the one you're canceling must come first in order to protect your credit score. Your credit history, which is a determinant in your final credit score, won't be impacted by closing a charge card. Let's now understand How to Close HDFC Credit Cards in both online and offline modes. There are different ways to close, cancel or deactivate HDFC Credit Cards.
By calling Customer Care
By filling out the form in the bank
Temporarily suspend
Using Net banking
How to Close HDFC Credit Card Offline?
Now let us know How to Close HDFC Credit Card Offline. If you want to close the HDFC Credit Card By visiting the bank follow below mentioned steps to close your HDFC Credit card offline.
Visit the HDFC Bank Branch.
Give your credit card information and your intention to close the card.
To verify your identity, respond to security questions.
The closing procedure can be started by adhering to the representative's directions.
Ask for confirmation and, if necessary, learn about any additional actions.
By calling Customer Care
If you want to close a credit card with just one phone call, contact the toll-free number "61606161", which is open 24 hours a day, 7 days a week, HDFC Customer Care Service allows their customers to close or cancel their credit card whenever they wish. Calling this number will make it simple for customers to get their questions answered. For the convenience of their customers, HDFC Bank also provides city-specific customer service lines.
By filling out the form
If you can visit the bank then you can easily close your credit card. Visit the HDFC Branch Follow the steps to close credit card HDFC by filling out the form.
Step 1: To begin, get the HDFC credit card closure form from this link. 
Step 2: After filling out the form, send it to the address listed below.
The cardholder must cut the credit card diagonally after initiating cancellation. Additionally, when primary credit cards are closed, add-on credit cards are also closed, meaning they are ended automatically.
Fraud, temporarily suspend
If you become aware that your card has been used fraudulently or that a transaction has been made without your permission, you should contact your bank as soon as possible.
How to Close HDFC Credit Card Online Using Netbanking
In the above matter we have deeply discussed How to Close Credit Card HDFC. Now we know how to close HDFC credit cards in online mode. It is easy to close credit cards online by following some parameters.
Steps to follow on How to close HDFC Credit Card Online mode:
Go to HDFC Bank website, Enter your registered 10-digit mobile number.
input that the OTP you got.
Choose the credit card that you want to close.
Not registered for MyCards- Enter the credit card's last four digits.
Multiple credit card holder- If the card wasn't registered, choose it from the list or add it.
Single credit card holder- proceed to the next step.
Choose a closure justification.
OTP authentication.
Your credit card closing request should be successfully submitted.
There are a few things to take care of when you decide to close your HDFC credit card online. The process for closing a credit card isn't standardized, and it typically varies from bank to bank. Below are some ways to use the HDFC Close Credit card in the right way.
Call customer service to cancel a credit card.
By sending the credit card issuing bank a written request.
Email cancellation of the credit card.
Submitting a request to close the credit card online.
Using Net banking
Step 1: begin by, just clicking on this link and log in to the HDFC website.
Step 2: Key in your password and customer ID.
Step 3: After logging in, go to the "Card" Tab.
Step 4: Next, select "Request" from the Credit Card Section.
Step 5: Your bank will block your card when you click on Credit Card Hotlisting.
Using Mobile banking
To close your credit card using mobile banking, you must first have the HDFC mobile banking app installed on your smartphone. IOS/Android users may easily download this program from the App Store or Play Store, respectively.
Open the HDFC app on your mobile
You can either log in with a 4-digit PIN or with a Touch ID if you like.
Select "Menu," then "Pay," and finally "Cards" from the drop-down menu.
Choose the credit card you need to block from the list of cards because there has been fraudulent activity on that card.
After stating the cause for closing or the card which can be either loss or theft click on the "Block" option.
After the card has been blocked, you can choose to have a new credit card issued through mobile banking alone.
Can I Reactivate a Deactivated HDFC Bank Credit Card?
Many people think about Can i Reactivate a Deactivated HDFC Bank Credit Card or not. Yes, you can quickly revive your credit card by completing the form located on the HDFC Bank website. Should your credit card become dormant and become inactive. Contact the issuer for reactivation, Sometimes all it takes is a quick follow-up on your part to get the credit card reactivated. However, if you have an excellent credit history and have always made your payments on time, you can file a written request to the issuer asking them to reactivate your credit card. Not using your card can increase utilization, but it can also have an effect on your account's status. Your account can be closed if you don't use a credit card after activating it. Accounts that aren't utilized for a particular amount of time, usually more than a year, are routinely closed by card issuers. Most transactions will be denied while your card is deactivated. A new credit card must typically be activated within 30-45 days of purchase before the credit card issuer notifies you or closes your account.
The methods to reactivate a deactivated HDFC Bank credit card are shown below
If the cardholder wants to revive the closed credit card, they should download the application from the HDFC bank's official website, www.hdfcbank.com.
It should be filled out and forwarded to the address listed below.
The bank would reactivate the credit card after a successful check of the same.
Does a Canceled or Closed HDFC Credit Card affect your CIBIL Score?

Yes, but only in the event that the credit cardholder makes use of multiple credit cards. As previously stated, the cancellation of one of the credit cards would lower the total credit limit while simultaneously increasing the amount of credit limit that was being used. Therefore, closing or canceling credit cards would have a negative impact on one's CIBIL score.

Closing Credit Card Effect Credit Score?

Yes, If canceling the card lowers your credit utilization percentage, your credit score may suffer. Based on your credit reports, credit utilization indicates the percentage of your entire credit line that is really being utilized. Your credit score will suffer the more credit you utilize out of your available credit. An ideal percentage would be around 30%.
Final words
This is everything you need to understand about the closing of the HDFC credit card online and offline. In addition, through this article, we have covered different methods to close a HDFC Credit card. We also shared the reactivation process of a deactivated HDFC bank credit card. I hope This guide has helped you in closing a credit card, If you have any queries, feel free to ask us in the comments below. Visit our website INDonline frequently for more.