ICICI Bank provides lots of banking features to the customers, one of them is ICICI Bank Mobile Banking. By Registering on mobile banking customers can use nearly 250 services provided by the bank. If you are an ICICI Bank Customer then you should activate the Mobile banking service on your account.
Once you register for the Mobile Banking service you can easily access your account from anywhere. Mobile banking is available as iMoblie app, ICICI Pockets and SMS Banking. Customers can access features like checking account balance, transferring money, paying bills, mobile recharge and DTH etc. 
Things Needed for ICICI Bank Mobile Banking Activation
If you want to activate mobile banking options on your account then you must visit the branch with the necessary documents. Take at least one document from the list given below.
Driving Licence 
Employee ID
Voter ID
Passport
Senior Citizen Card
ICICI Mobile Banking Registration at any ICICI Bank ATM 
If you can't go to the branch for activation then you can visit ICICI ATM for activation. Locate the Nearest ICICI Bank ATM and use your ATM card for activating Mobile Banking services.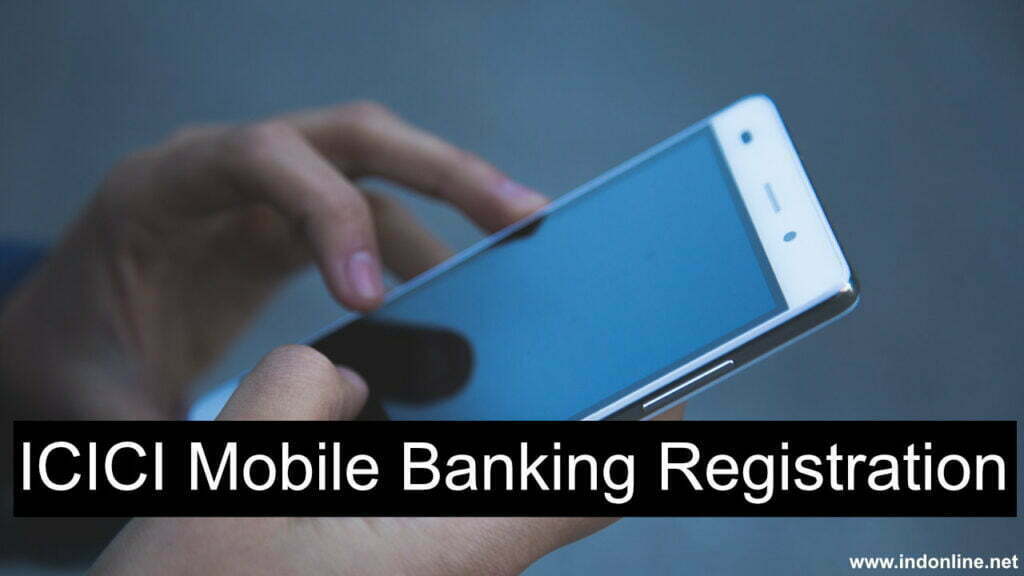 iMobile Pay App Download
ICICI Bank Mobile Banking app is called as iMobile Pay This app is available on both Android and iOS, users can download it from respected stores. Another way is that you can send an SMS from a registered mobile number to get the download link as an SMS, open the received link on any browser and the app will be downloaded on the mobile.
| | |
| --- | --- |
| iMobile App Download Link | Click here |
| SMS for Download Link | SMS 'iMobile Pay' to 5676766 |
iMobile Pay Registration
Once you downloaded the app then you have to keep your registered mobile number on your phone for login.
Open the app and select the 'i already have account' option
During registration customer should set 4 Digit login PIN (mPIN), it will be used for future login make sure it is different from your ATM PIN
Now login with internet banking credentials, if you don't have a user ID and password go through this article to get ICICI Bank Internet Banking
Finally set Fingerprint for login, it will increase security further 
ICICI iMobile Pay login / ICICI Mobile Banking login
First-time users should authenticate their login, once this process completes user can log in easily with 4 Digit PIN (mPIN).
One-time Grid Card authentication: The application will fetch grid values as given on the back of the Debit Card of your chosen bank account.
In order to log in click on the app and use the internet banking user id and password for login.
Finally use fingerprint if you opted for it during registration, now your dashboard will be displayed your ICICI Mobile Banking login will be completed.
Key Features of ICICI iMobile Pay app
Easily check account balance
Quickly check transaction history
Customers can transfer funds to ICICI or other banks
If you are in a new place then you can quickly locate the ICICI Bank ATM
Recharge mobiles and DTH
UPI ID and share it with your friends and family they can easily send money to your account
Non-ICICI Bank Customers can easily open a savings bank account with this app
How to Transfer Money With iMobile Pay
If you want to transfer money from iMobile Pay app you can do it very quickly. It is explained below with simple steps.
Open the iMobile App and select 'Transact' and then tap on 'Fund Transfer'
On the new page tap on 'Add New Payee' (if you don't have any payee added), Now enter the bank account number and other asked details. Finally, click on Proceed.
Check all the payee details once and then click on the 'Submit' Button
Now select the payee name and enter the amount and click on 'proceed'
A pop-up window will show all details regarding the transaction verify it and then click 'confirm'
The amount will be sent directly to the receiver account within a few minutes
Pockets by ICICI Bank
It is an e-Wallet app, not only ICICI Bank Customers by any bank account holders can register on this app. It is designed for Mobile Recharges, Quick QR payments and shopping. 
Features of Pockets App
Easy to Register: Customers can easily register with a mobile number, and create a user ID and password. ICICI Bank customers can log in with their Internet banking Credentials.
Add Money From Any Bank: If you want to add money to your wallet you can use any bank debit card or internet banking 
Easily Pay With QR: By using the pockets app users can pay to any QR code, just open the app and tap on 'Scan to Pay' now camera will open scan the code complete the payment.
Shopping: you can shop at any Indian website and store, and pay with a Pockets card.
Wallet UPI: Generally, if you want to create a UPI ID you need a bank account but not with the Pockets app. The app will create a UPI ID with a registered mobile number. 
Offers: if you are using the pockets app then you will get special offers on movie tickets, recharges and shopping.
ICICI SMS Banking
This service will be useful when you don't have access to the internet. Also by using ICICI SMS Banking, you can check your account balance and get Mini Statement.
Recharge mobile, postpaid bill payment or DTH Services any time you want it will work 24*7
Quickly check your A/C Balance by giving a missed call on 9594 612 612 or send an SMS as IBAL to 9215676766 / 5676 766 to get the balance details.
Also, get the A/C Mini statement give a missed call at 9594 613 613 or send an SMS as ITRAN to 9215 676 766 / 5676 766 to know the last 3 transactions
I hope this article answered all the questions regarding, ICICI Mobile Banking. If you have any other questions regarding ICICI Banking Services go through indonline.net for solutions.
1. Is there any fee for using iMobile Pay?

No, customers can use the iMobile Pay app services without any additional charges

2. Is ICICI Mobile Banking Safe?

Yes, it is safe to use ICIC Mobile banking

3. How do I activate my iMobile app online?

Activate mobile banking services on your account and then you can log in with Internet Banking Credentials